Will The Robot Replace Me
It wasn't long ago that the only automation in a dusty, dark and very honestly unpleasant post-industrial world warehouse was the coffee vending machine, but boy has that all changed now!
It is estimated that the digital warehouse and all that goes in it will be worth a staggering US$27 billion by 2025, a plethora of robots, drones and the IOT set to completely re-shape that warehouse industry, but why?
Drivers of change:
Automation is a must for customer fulfilment: Meeting customer demands require increased adoption of warehouse automation solutions to keep costs and operational complexity in check.
Scalable solutions enable growth: Double-digit growth in e-commerce and online grocery sales is driving players to expand capacity to deliver required volumes. Warehouse automation solutions are built for scale and can deliver higher output and more accurate order fulfilment than a manual setup.
Cost efficiency and quality: Automated and robotic solutions are easing the increasing pressure to meet customer demand, more efficiently, whilst reducing costs. Warehouse solutions can increase both speeds and accuracy. The spatial savings from reduced warehouse footprints can be up to 85% and reductions in operational costs of up to 65%. Space savings are achieved primarily through storing SKUs higher and denser, and reductions in operational costs are resulting from decreased demand for manual labour. Warehouse automation solutions result in faster process times and reduced picking errors and hence improved service levels. The speed at which an order can be accurately picked and shipped increases the reliability of the customer's delivery service, and makes operations more flexible in terms of handling late changes. 
We read an article today that said that the current birth rates in the US is the lowest in 32 years. In a world where online and traditional warehouses are struggling to attract and retain warehouse employees, with the unemployment levels globally at historical lows, companies have little choice, but to automate.
Home-to-Shop direct connectivity: A gradual transition towards "complete connectivity" drives greater demand for warehouse automation solutions as enhanced inventory management systems. For example, smart fridges will in the future order directly from the warehouse, without human intervention, today retailers are increasingly connecting their stores, the fulfilment centres and the consumer in order to pull the product from the closest and most suitable location.
New channels, new models: The rise of online grocery retail is a perfect example of a new channel, in an existing sector driving the need for a different approach to warehouse management. Small, highly digitalized micro-fulfilment centres will be the landscape of tomorrow, enabling the retailer to compete on price as well as offer on-demand and same-day delivery.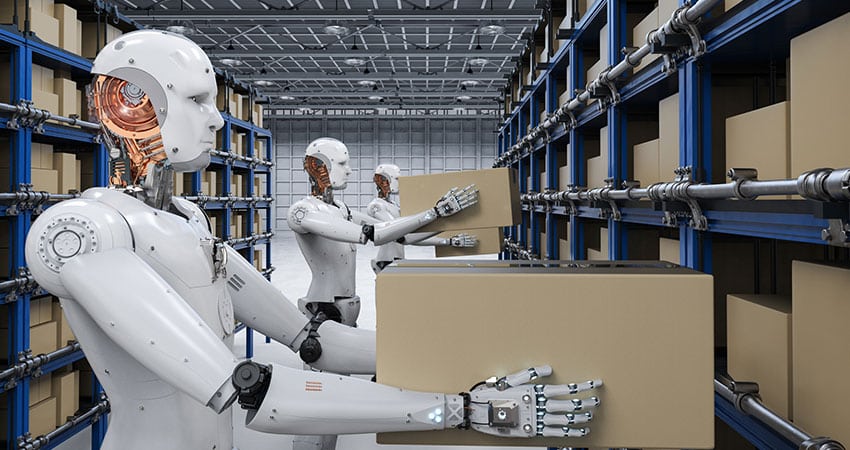 Today customers want choice, convenience and control, and their orders delivered as soon as possible, in a way that suits their flexible lifestyles. That's a by-product of the mobile, app-driven, on-demand age.
Smart warehousing models like those already being used by the tech giants like Amazon, JD.Com, Alibaba and Ocado are making others sit up and listen (or look).
Ok, we all know of drones and robots, but we asked some of the Click & Connect team for their predictions for tomorrow.
Click & Connect's 5 Picks (excuse the pun) for Tomorrow
Robotics and cognitive computing
Taking a cue from Amazon, Alibaba, et al, process automation will move centre stage – not only via the use of physical robots that replicate manual tasks but also through robotic software applications and cognitive computing services, such as AI and machine learning.
We will likely see a continued coming together of robotic process automation and cognitive computing – machines and technology replacing manual and repeated processes, allowing the labour force to focus on value-adding activities
Until recently 'warehouse' maintenance had long been a passive, reactive process, i.e. waiting for things to break, then fixing them. Now a mix of technological approaches allows the organisations to gain unprecedented insight into the lifecycle of a product, components, and even materials.
Using these and other technologies, objects can not only tell organisations when they need fixing, maintenance, or upgrade, but also predict when they're likely to fail, enabling end-to-end lifecycle management.
Everyone is familiar with how sharing-economy platforms and apps, such as Uber, Grab and Airbnb have disrupted entire sectors, but what few people realise is that the model is now being applied to industrial warehousing.
Start-ups such as Flexe in the US have created apps and cloud platforms that transform the warehouse sector. They're allowing warehouse owners to lease out spare capacity, and clients to rent it on demand.
Already we are seeing large PE firms buying up and creating a huge real estate footprint, and our bet is that will quickly be turned into usable fulfilment space and could well be provided in a more dynamic and asset lite model than today.
Technologies such as programmable cobots – robots that work alongside human beings – will become increasingly important and prevalent, following the smartphone model by becoming programmable platforms for a range of process or industry-specific applications. Modular by design, these cobots allow for a simplifies scale up and scale down approach, much needed in today's retail and e-commerce template.
3D printing will be another ingredient in the mix. You don't need the same warehouse footprint if you can 3D print closer to the consumer.
IoT Standards and regulations
Today's smart warehouses are increasingly rolling out transformation strategies that deploy sensors connected to the IoT – so that robots, workers, managers, and even smart vehicles, know the location of every item and can track them on their journeys.
A connected environment will shift our environment from monolithic, slow, reactive supply chains (global scale), to smarter, faster, automated networks (local scale).
Conclusion:
Although robots are the main attraction and definitely the centre of many discussions, there are still plenty of humans knocking about, and when I spoke to a warehouse worker recently, he told me he's not worried about a machine taking his job. He says "the work is pretty boring, and at any rate, I've seen the experimental robot arm in action and think it'll be a few years before it can take over my work", and when I asked him "What about when the technology is good enough?", "Well," he says, "I'm training to be an engineer anyway."
With a team of global experts, with a deep understanding of their respective functions, Click & Connect provides expert management consulting services focused on your most critical business challenges and your largest opportunities
Connect with us here (www.clickandconnect.co) and find out how we can help you address the exciting, but very challenging environment we operate in today!